This Monsterinsights review helps you appreciate the awesome features of Monsterinsights.
You need a tool that shows you the most important of your site in an easy-to-understand format. Data that you can apply to improve your site.
Website analytics provide you with the actual reports and analytics on how your site visitors behave once on your website, who they are by their age, gender, and location.
With this information at your disposal, you will find it easy to improve the performance of your website to generate more conversions.
In this article, I am going to review MonsterInsights. This MonsterInsights review will show you how this plugin can give you the actionable data you need to grow your business.
Let's get started!
What Is MonsterInsights?
MonsterInsights is the best WordPress Google Analytics plugin. It helps you set up Google Analytics with just a few clicks without using any code.
Offers a number of advanced tracking features that it automatically sets up upon installation.
It helps you to know different insights ranging from visitors, conversions, to top-performing content in one place with easy-to-understand reports to better business decisions.
MonsterInsights Review: Features and Addons
MonsterInsights is the best GoogleAnalytics Plugin for WordPress.
Here are the features that make MonsterInsights the most powerful and user-friendly WordPress analytics plugin:
Analytics Tracking
Website tracking across all devices – Desktop, tablets, and mobile phones.
Google Analytics Enhanced Ecommerce tracking for WooCommerce, Easy Digital Downloads, and MemberPress.
Automatically tracks all outbound link clicks to see exactly what sites you're sending users to.
Enables bloggers and affiliate marketers to accurately track their affiliate links with Google Analytics.
Enhanced Link Attribution
This allows you to learn which call to action button or link on your landing pages is getting the most clicks.
Enables event tracking for file downloads so that you can see which files are getting the most downloads.
Easily enable scroll-depth tracking with 1-click to see exactly where your users lose interest in your content, so you optimize it for maximum engagement/time on site.
Forms tracking addon automatically tracks all your WordPress forms to show you important conversion data.
This allows you to identify which authors on your site are the most popular especially for multi-author publishers and bloggers.
See stats for your Yoast SEO score and see how it impacts your traffic.
See stats for your WordPress categories to find out which sections of your sites are the most popular.
Determine which topics are the most engaging for your website visitors.
For users of Yoast SEO, MonsterInsights can help you segment traffic by focus keyword.
Custom Reports
Analytics Overview Report
Access to the most important Google Analytics data in an easy-to-understand report.
Page Insights in Admin Bar
This allows you to view analytics for each individual page and post from the Insights menu in the WordPress admin bar while browsing your website.
Gives you weekly access to analytics summaries containing the most important metrics delivered to your email inboxes so you can stay on top of how your site is fairing.
Offers you real-time stats right inside WordPress to see who is online, what are they doing Ani where are they coming from
This allows you to see all your important store metrics in one place such as total revenue, conversion rate, average order value, and top products.
Shows you which content gets the most visits, which affiliate links are performing the best, and what new partnership opportunities you should pursue.
Audience Demographic Report
Understand your visitors in a whole new way with detailed insights like their country, interests, device preference, browser, age, gender, and a whole lot more.
Shows you how people find your website, which keywords they searched for, who referred them, what they clicked on your site, and more.
Helps you dig deeper by showing you useful stats like most popular authors, best publication times, popular categories, tags, Yoast focus keywords, and SEO score.
Shows you exactly how well your website is ranking in Google, so you can further optimize your SEO to grow your organic traffic.
Shows you conversion stats for various contact forms and lead forms on your website, so you can improve the conversions to grow your business.
Shows you stats on exactly which content gets the most visits, so you can stop guessing and start creating content that gets more traffic and conversion.
Site Speed report helps you improve your user experience and Google ranking by identifying easy ways to increase the speed of your site.
Individual Post & Page Report
Allows you to view individual posts and page stats like page views, bounce rate, and time on page
Access Control For Custom Reports
Restrict access to MonsterInsights reports based on user role. This is great for businesses with multiple employees, large publishers, and eCommerce websites.
Helps you to write irresistible SEO-friendly headlines that drive traffic, social media shares, and rank better in search results directly in the Gutenberg editor.
Integrations
Has Complete Enhanced Ecommerce tracking for WooCommerce in a single click. You also get a convenient WooCommerce report dashboard.
Offers complete Enhanced Ecommerce tracking for Easy Digital Downloads plugin. You can view all important stats in our report dashboard.
MonsterInsights makes Ninja Forms tracking easy.
Short Links by Pretty Links
Pretty Links is one of the most popular affiliate link plugins. MonsterInsights automatically detects and tracks all Pretty Links clicks inside Google Analytics.
MonsterInsights can automatically detect if you're using ThirstyAffiliates and automatically tracks all your affiliate links, no matter what link prefix you're using.
MonsterInsights Ad Tracking shows you how many clicks each banner ad is getting, so you can identify the most effective ad placements on your site.
MonsterInsights Google Optimize integration helps you design and implement A/B split tests on your site without any code at all.
MonsterInsights offers 1-click integration with CookieBot.
Cookie Notice by dFactory
MonsterInsights offer 1-click integration with the Cookie Notice plugin.
Reasons Why Website Analytics Are Important For Your Business Growth
1. To Enhance User Experience Of Your Site
When you know who your site visitors are by their age, gender, geographic location, interest topics, you can take proper measures to enhance their user experience.
2. To Know The Content Which Needs To Be Improved
You will learn the content that gets the most visits, average duration, and bounce rate for the individual pages so you can analyze, and optimize, for better engagement.
3. Improves Your Site's Performance
It provides you with the actual data of total clicks, impressions, average click-through rate (CTR), and average position to Improve its performance.
4. Shows You Top Referrals
Using website analytics, you can track who referred most traffic to your business site, analyze, and focus on strategies to gain more referrals from them.
5. Tracks Your eCommerce Metrics
MonsterInsights shows you all your important eCommerce metrics like total revenue, conversion rates, top products, top referral sources, etc. in a single report.
How To Set Up Monsterinsights
You can set up Google Analytics on your site in a few minutes.
Step #1: First, Click Authenticate with your Google Account:
Step #2: Next, log into your Google Account:
Step #3: Give MonsterInsights the proper permissions:
Step #4: Lastly, pick the profile for your website.
Monsterinsights Review: How To Connect To Google Analytics
After you install MonsterInsights, you need to connect your WordPress site with your Google Analytics account.
To get started, click on Insights » Settings in your WordPress dashboard menu.
Now you can click the Authenticate with your Google account button to start the process.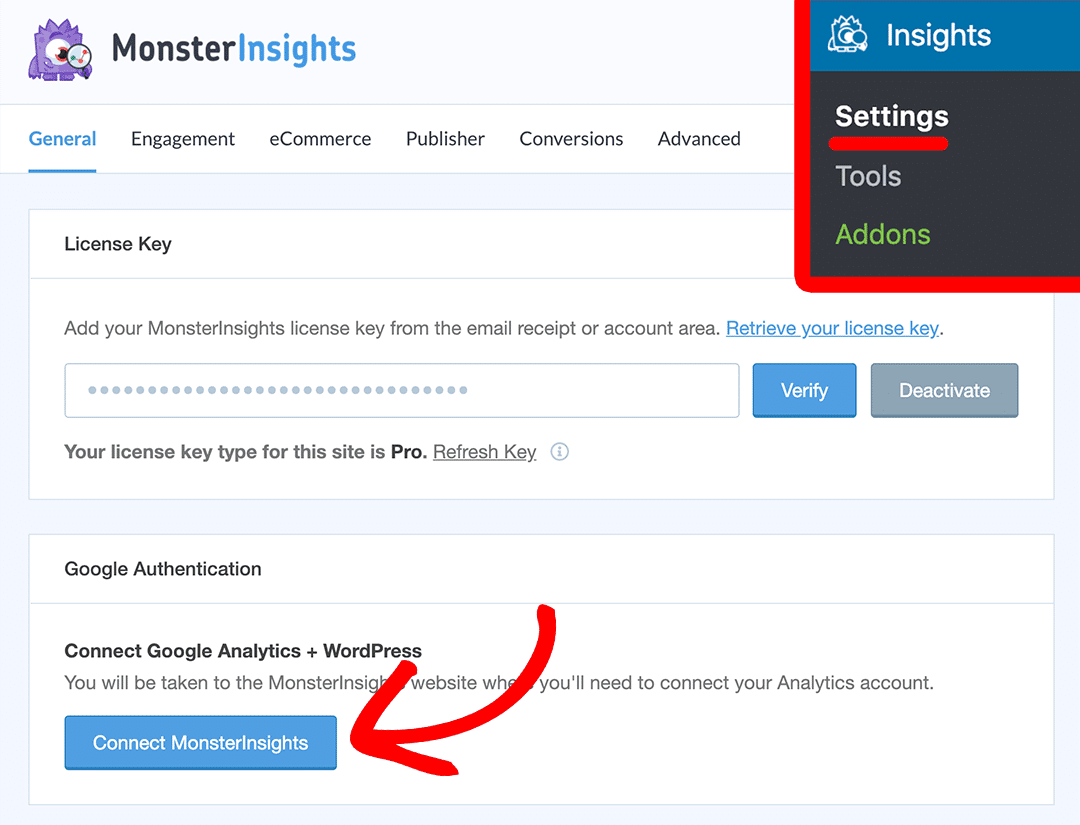 On the next screen that appears, select your profile.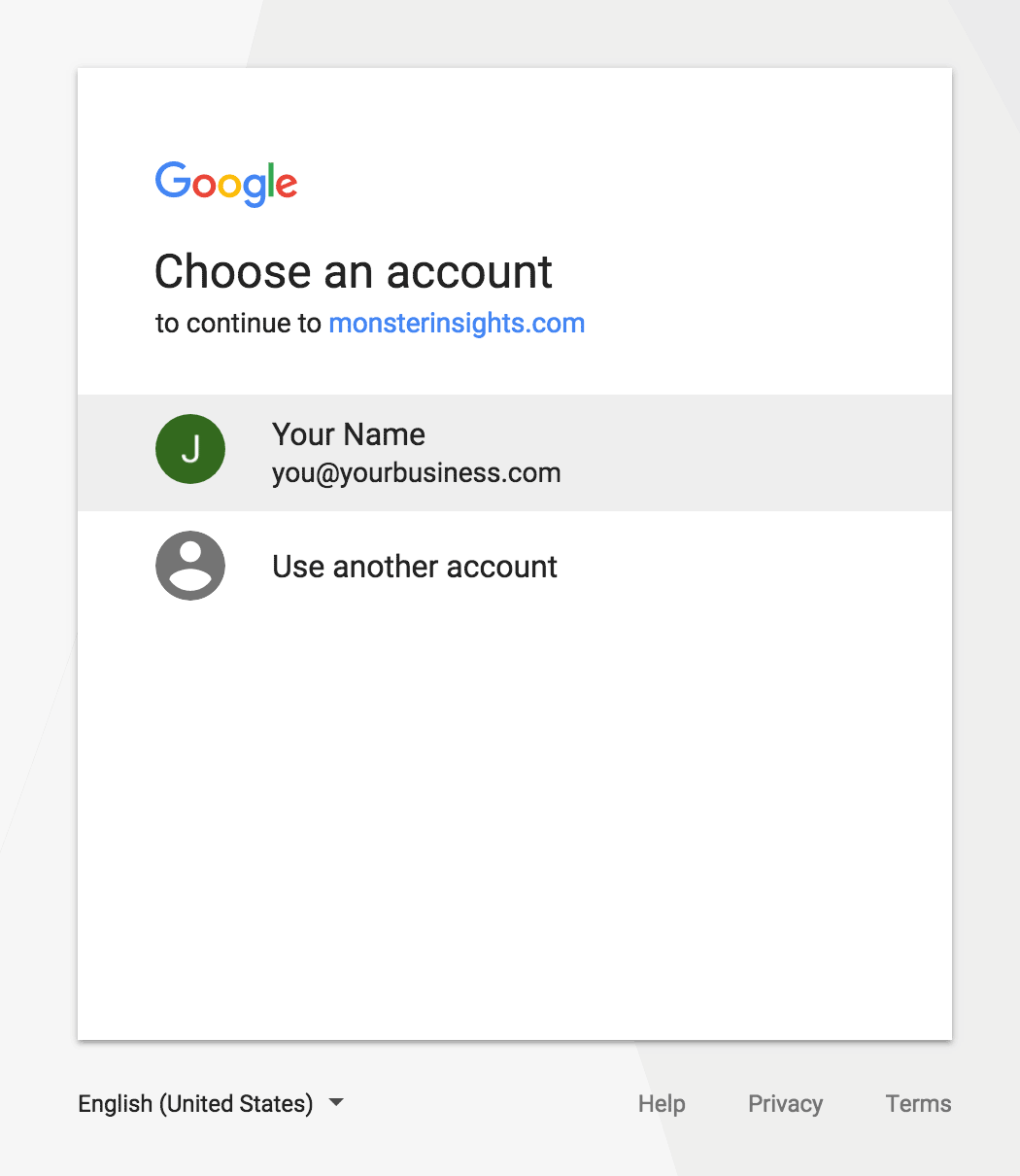 Next, click the Allow button to give MonsterInsights access to your Google Analytics data.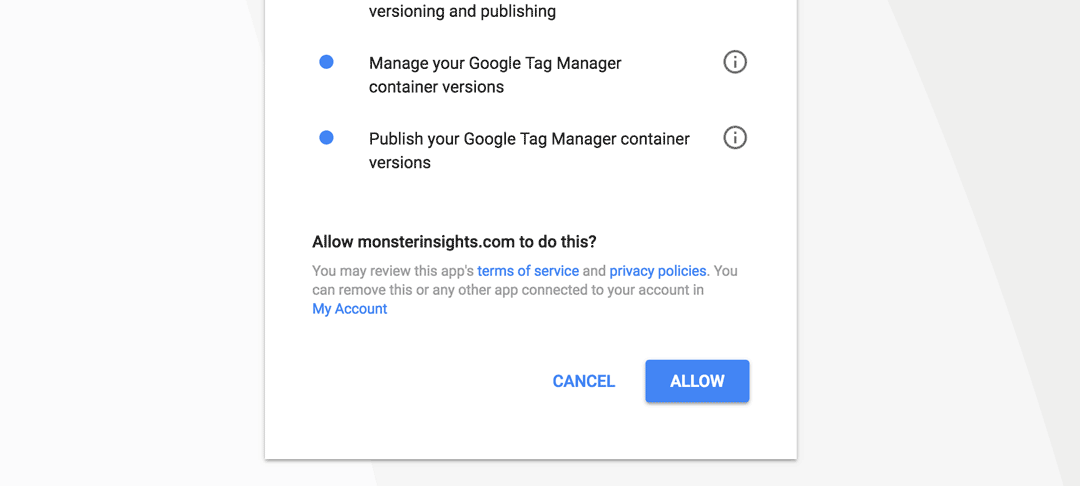 You'll be given the option to choose the website profile you want to Authenticate with MonsterInsights.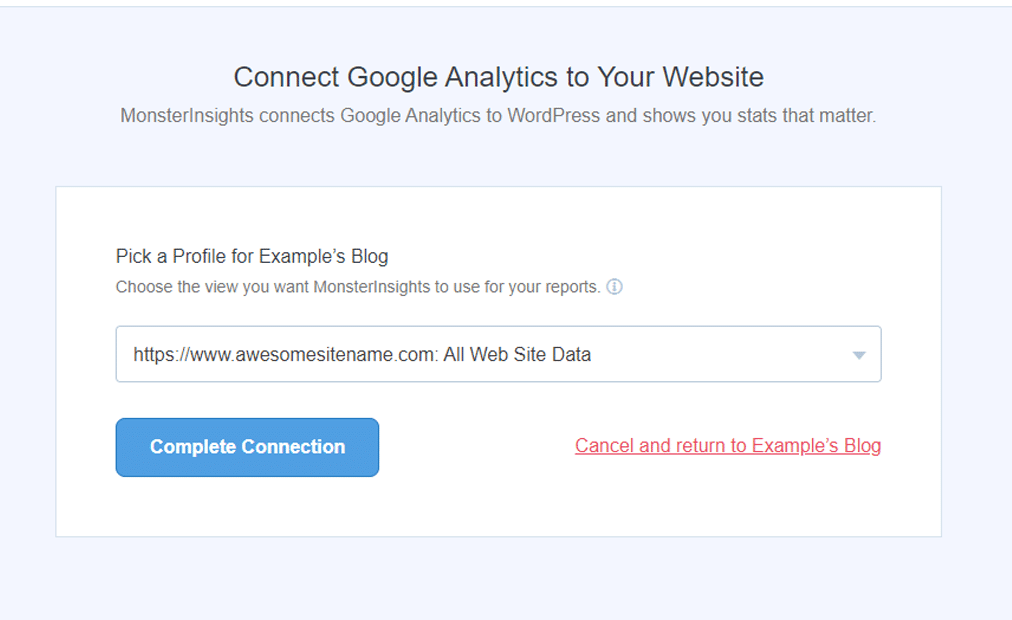 In the dropdown, find your website and then click Complete Authentication.
You are done!
It will take 24 hours for the MonsterInsights dashboard to display your data.
When your data shows, go to Insights » Dashboard to see how your site is doing.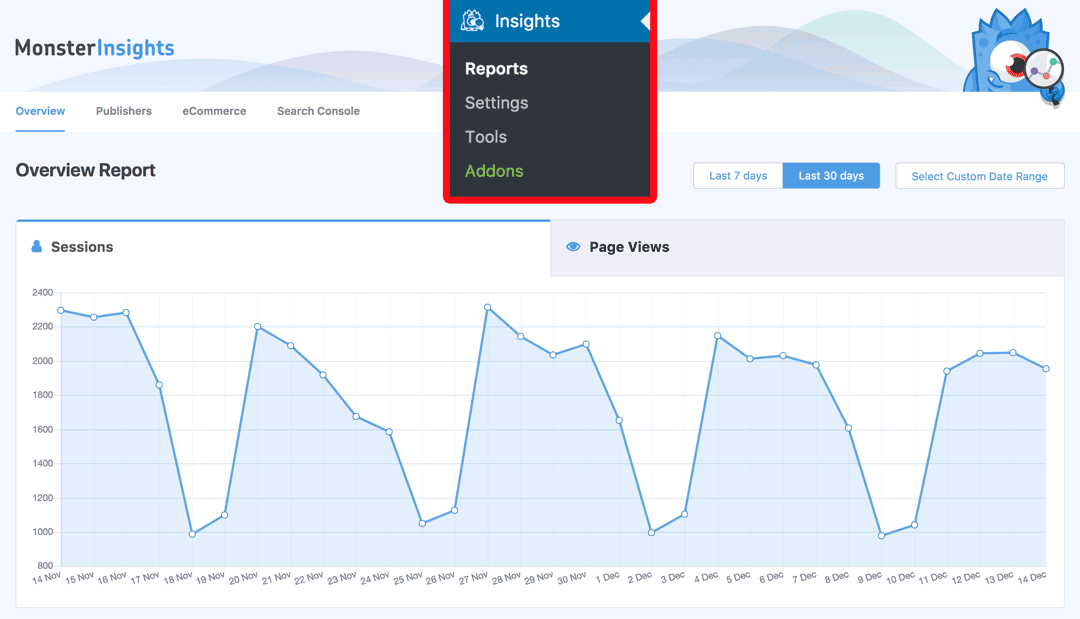 Read More:
14 Best High Paying Yoga Affiliate Programs
Monsterinsights Review: Summary
The MonsterInsights review shows that it is a perfect solution for you. It helps you learn important data about how your strategies are performing, which content people like, and where your visitors are coming from.