Are you wondering how to write about me page on your blog? Well, the About Me page is a crucial part of your website. It is one of the important pages on your blog.
The most authoritative page on your blog is your About Me page.
So what should be written on the about me page?
The about me page accords you a platform to convince your visitors to follow you.
Therefore, the about me page is more than a picture of you and a couple of sentences about your site.
It needs to advertise you as someone who will trust you and will become your follower and supporter.
But most bloggers make a mistake. They only talk about themselves.
Many bloggers ignore this important page and do not share with readers what they are capable of doing to help them find solutions to their problems.
Before you start writing about me, there are certain aspects you need to take into account when it comes to a well-written About Me Page that readers will love.
Find out how you can write a killer about me page that will make your readers follow you.
Why Create An 'About Me' Page?
It's the most important page of your website or blog. It advertises you and your brand. This is the page where visitors get to know you and what you offer. Thus it's an ideal resource for promoting your professional brand.
Writing an amazing About Me page is not an easy task. But don't worry! I have you covered. I'll give you tips on how to write an incredible about me page. Here's how to write an 'About Me page you can be proud of.
Getting Started Step By Step Guide
What to write about yourself:
Tell your visitors who you are, what you do, and how you got where you are. Use this page to describe your credentials, expertise, and goals.
Emphasize why they should follow you by indicating:
Qualities that set you apart from your competitors.
Challenges you experienced and how you overcame them.
Share with them your achievements and how they will benefit from the expertise.
How to Write an About Me Blog Page
Be Sincere
Be sincere with the statements you make. Don't inflate figures to please readers. If you make little money, be sincere by stating the exact amount you get.
Include A Photo
Readers would like to know the person they're dealing with. So remember to include a photo of yourself on the about me page.
Write A Brief Profile
When you write your profile, ensure that you write the main points only. Don't write so many paragraphs. It might be boring and people will not read it.
Exercise Humility
If you are doing extremely well, don't let people notice that you are bragging. Use language that shows you are humble.
Include A Call To Action
Usually, a call to action (CTA) tells the reader what more they can read, watch or do. Be it following you on social media or signing up for your list. A call to action is needed.
An about me page isn't just about information. It should encourage the reader to take any action, to take a step deeper with you.
So what is the most important action a user can take? For some business owners, their main marketing method is through email.
So getting a reader on an email list is paramount. Other actions might be:
Reading some of your most popular blog posts
Checking your Services page
Following you on social media
Contacting you for a free consultation
Add Relevant Links
You need links on your about page. But they should be relevant. Links enable your readers to navigate your website or blog easily
However, if the link is not relevant, then don't include it. It's better to have nothing than including a link that doesn't make sense.
An About Me Should Be Free Of Grammatical Errors
After writing an about me page, read your sentences several times to ensure that they are correct. Grammatical errors may scare away readers.
Update Regularly
Set a routine to review your page. Check to ensure the links are working and the data included is accurate as well as up to date.
Tips For Writing An Amazing About Me Page
1. Know Your Reader?
You need to know who your reader is. If you don't have an idea of the person you are writing for, why are you even writing?
Make sure you include details about your target reader. That way, your readers know if what you are sharing is meant for them.
In the first paragraph, mention a problem they might be facing. Then in the second one, provide a solution to the problem.
This assures the readers that you have what it takes to address their problems. It also shows that you understand them better.
2. What Solution Will You Provide?
Let your learners know that they will benefit from reading your content. Some questions you should consider include:
Tell them what they can expect to read when you post.
Let others know you are a newbie if you are and what makes you special.
Provide a convincing reason to follow you.
3. Be Personal
Share with them your background. Your readers want to get to know you. This is how you can build trust in your followers.
4. Engage With Your Readers
Tell your learners to follow you on your active Facebook Group for engagement. Do something to encourage action from them. Do the same on all your social media platforms like Instagram to get more followers.
Tell them to do something so that they stay connected with you. Ask them to sign up for your newsletter.
5. Provide Useful Information
Make use of internal links to provide your readers with additional information. Your about me page must engage your reader and allow them to understand what your site is about. The idea behind this is that when they finish reading, they will have the desire to follow you and love your content. When you provide them value right from the word go, they will continue coming back to your blog to read your content.
What Is A Good About Me Page?
The About Me Page is one of the most visited pages on your site. So ensure that it's appealing to the hearts of individuals that visit your site.
Thus a good About Me Page helps your business grow and helps visitors get to know you better.
A good about page is one that helps you build trust and helps someone make the decision to further their relationship with you.
This could be encouraging them to sign up for your email list, requesting a consultation, or buying one of your products.
5 Mistakes To Avoid When Write Your About Me Page
Take a look to see if you're making one of these seven common mistakes.
Mistake #1: Not having an About Page
You might have some interesting content and a sweet design. But if you don't have an about me page, then you are doomed.
Mistake #2: Not writing your particulars
If you deem it fit, tell your readers your name. Both your first name and last name. But if you have a middle name, share it with them. Your readers want to get to know you better.
Mistake #3: Don't use videos only
If you use video on your About Page, keep it short, make it interesting, and include some text for the readers in your audience.
Mistake #4: Writing long about page stories
Stories are awesome. But long, boring stories are not awesome. If you're going to tell me the story of your journey to success, make it more interesting.
Mistake #5: Thinking the page is about you only
What most site owners miss is that your About Page is actually about the person who clicks the link to see it. Talk to that person about why they should bother reading your site.
How To Write About Me Page Template
Now that you know what to include on your about page, let's put it all together. Here you will find a template. Follow this guide when writing your page to ensure you have everything covered – in the right order.
Source: sixfigureblogger.com
Great About Me Page Examples
Although you may know the aspects of me, it is difficult to know where to start from. So taking a look at some great about me page examples can help you create an appealing one for your site.
Here are some examples of amazing about me pages:
An about me page should be brief straight to the point.
The essence of an about me page is to connect you with your readers. So it should be appealing to the readers.
Her page starts differently, but you can see right away what she wants to do. Her message is clear.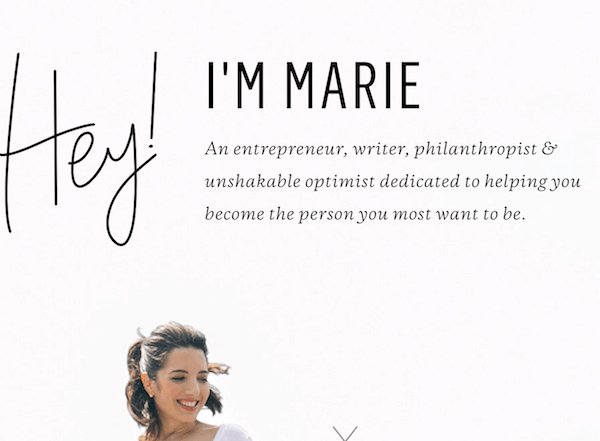 Derek Halpern has a great about me page. There are navigation buttons to help you find what you need, media accolades, and then they go into connection to the reader's pain points.