I'm really convinced that you want to learn how to start a money-making blog in Kenya, right? No doubt!
First and foremost, I wish to welcome you to this ultimate guide on how to start a blog.
Let me assure you that you have come to the right place!
We have created a step-by-step guide that will make your blog-starting experience as fun as possible.
I don't know what your reasons are for learning how to start a blog.
To make this a success, I'll share with you my blogging journey. The experience I have gathered over the years will be shared for free.
I have been blogging for the past 2 years, but my first blog failed. But I didn't despair. Six months later, I put myself together and launched another blog.
Guess what?
My second blog succeeded. I managed to grow the blog to thousands of monthly pageviews.
And I realized my dream of making money online.
But I don't want you to go through that learning curve. No wonder I prepared this guide on how to start a successful blog in Kenya.
Of course, there are many reasons to start a blog, but some of the most common reasons are to make money, share knowledge, and establish credibility.
But this guide is designed to equip you with skills to help you start a money-making blog.  
I want you to succeed on your first attempt. Are you curious to learn how to create a money-making blog?
Well, let's get started now!
How To Start a Blog In Kenya In 8 Simple Steps
1. Choose a Niche
This is the foundation. We should yearn to build a very strong foundation. Thus, we must get this one right.
So what is a niche?
A niche is a specific topic or subject area that you will be writing about on your blog. You should picky here.
You should choose a niche that you're interested in writing about.
Don't write about anything! Have a specific topic.
This will help you to target your content and attract an audience that is interested in what you have to say. 
If you write anything, you will have no audience. Therefore, it will be practically impossible for you to make money.
Here are a few tips for finding the perfect niche for your blog:
1. Choose a topic that you're passionate about.
When you're blogging about a topic that you're passionate about, it will be much easier to come up with content ideas and stay motivated.
2. Choose a topic that you're knowledgeable about.
Blogging about a topic that you're knowledgeable about, you'll be able to provide your readers with valuable information.
This will help to build trust and attract a loyal audience.
3. Choose a topic that has a large potential audience.
When choosing a niche for your blog, make sure to choose a topic that has a large potential audience.
You will be able to attract more readers and build a successful blog.
Choose a topic that you can monetize.
If you're looking to make money from your blog, choose a topic that has the potential for monetization.
There are a number of ways to monetize a blog. The common ones are ads, affiliate marketing, and sponsorships.
Read also: How to monetize a blog
2. Choose a Domain Name And Web Hosting
Domain name
When you're creating a website, one of the first things you need to do is choose a domain name. 
This is the web address that people will use to find your site. For example, Visionarybloger.com.
There are a few things to keep in mind when choosing a domain name:
1. Easy to remember
2. Accurately represent your business
3. Should be available
4. Should be affordable
Also, think about what domain name extensions are available. The most common extensions are .com, .net, and .org. 
But there are also other extensions, such as .biz, .info, and .co. UK.
Finally, think about how you want your website to sound.
Try to choose a domain name that is easy to pronounce and that sounds professional.
Once you've chosen a domain name, you need to register it with a domain name registrar.
A domain name registrar is a company that registers and manages domain names.
I recommend Namecheap to my readers.
Purchase your domain name from Namecheap.
Here are some reasons why you should buy your domain name from Namecheap:
1. Price
Namecheap offers some of the most competitive domain name prices on the market. 
2. Customer Service
Namecheap has excellent customer service. I have had a few questions about my domain name and their customer service team has always been quick to respond to help me out.
3. Ease of Use
Namecheap is a very easy site to use. It is simple to purchase a domain name and set up hosting with them.
Read also: How to make money with affiliate marketing
Domain registration process
1. Go to Namecheap.com and click on the "Sign In" link in the top right corner of the page. Scroll to Domains at the top of the page and select Marketplace
2. Click on the Buy Now tab, enter the domain name you want to register in the "Domain Name" text field, and then click on the "Check Availability" button.
3. If the domain name is available, click on the "Add to Cart" button.
4. Then click on the "Checkout" button.
Kudos! You have successfully bought a domain name at Namecheap.
Read also: Free blogging tools for bloggers
Web hosting
This is another aspect where you should not go wrong. So you should choose your web hosting carefully.
Web hosting is a service that provides a safe and secure place to store your website's files and make them accessible to the world. 
When you're ready to launch your website, you'll need to find a web host to put your files on their servers.
There are several web hosting companies to choose from, and it can be tricky to figure out which one is the best fit for your needs. 
But no pressure!
Here are a few things to keep in mind when choosing a web host:
Price 
Web hosting can be expensive, but there are numerous affordable options out there.
But make sure you're getting the features you need, and don't overspend on features you don't need.
Uptime
Look for a web host that has a good track record for keeping their servers up and running. Not servers that are always offline.
Bandwidth 
The web hosting company you choose should have enough bandwidth to support your website's traffic.
Support
You need to choose a company that has excellent customer support.
Ease of use
This is also extremely important. Find a web hosting that has a user-friendly interface. 
Some of the best web hosting companies for beginners are Cloudways, Rocket.net, and Namecheap.
If you're a beginner looking for a reliable and affordable web hosting provider, Namecheap is a great option for you. 
Hosting ordering process
1 . Visit the NameCheap homepage and click on the Hosting tab.
2. Select the package you need, the billing cycle (monthly or yearly), and the data center location – US, UK, or EU, and click Get Started.
3. After selecting, you will be redirected to the Domain Name Connection step.
You can connect an already existing domain or register a brand new domain.
4. Click Connect To Hosting to continue.
If you add one or more domains to the Shopping Cart but you want to use one of them as the main domain for their hosting, you can use the Already in Cart option.
5. Choose the domain you want to use.
If there are two or more domains, you will be able to choose which of the domains should be the main domain for the hosting being ordered.
6. Once the domain and hosting are added, Then purchase by clicking on the Add to Cart button:
7. Next, Review your order details. Then click on Confirm Order to go to the checkout.
8. Select the payment method. Choose one. The options are Credit Card, Paypal, or Account Funds.
9. Agree to their Terms and Agreements. When set, click on Pay Now.

For beginners, I recommend you buy shared hosting which is normally activated instantly.
When your account is activated, you will receive your Hosting Welcome Email with all your account's login details, settings, and instructions. to help you get started.
3. Install WordPress
This is the next step you should take. WordPress is the best blogging platform on this planet.
A blog platform is a software or web application that enables users to create and manage their own blogs. 
For example, if you want a lot of flexibility and customization options, WordPress might be a good option for you.
WordPress is a free, open-source blog publishing platform. It is the most popular blogging system in use on the web today. 
How to install WordPress automatically
Then click on one of these icons to launch an auto-installer for WordPress. Follow the instructions to install WordPress using Softaculous.
Use the Softaculous automatic app installer to install WordPress faster. To use Softaculous, log in to your host's cPanel account and locate the Softaculous or WordPress installer icon in the Auto Installers section.
Log into your account – cPanel.
Choose the Softaculous Apps Installer icon.
Click the WordPress logo.
Click the Install tab to proceed.
Supply the following information:

Choose the domain – enter the domain you wish to install WordPress on.
Indicate the root folder for installation. The Directory field is empty by default.
Database Name – No need to change it.

Once you finish, click Install.
Softaculous will run the installer with the settings you supplied and deliver a success message once the process is complete. You will2 links. One to your site and another link to your WordPress admin area.
Click the admin link to log in to your dashboard.
4. Install a theme
Next, choose a theme and install it.
A blog theme is a set of design and layout settings that control the appearance of a blog's content. 
It can include colors, fonts, and the placement of elements on a page. 
Most blog platforms have themes that users can install, or users can create their own themes. 
To install a blog theme, users first need to find a theme that they like. 
How to Install a Theme via WordPress dashboard
The easiest method I use to install themes is via the WordPress dashboard.
Log into it via http://yourdomain.com/wp-admin/.

1. Goto the Appearance menu on the left side >> Themes.
2. You can manage installed themes or install a new one. If you want to install a theme, simply click Add New button.
3. A list of the themes available for installation will be displayed.
4. You can set your search parameters by checking the necessary parameters. These are  Layout (1), Features (2), and Subject (3). Once selected, click on Apply Filters.
5. Once the list of the themes you searched for is displayed. To set up a theme, click on the Install button.
6. Once the setup is complete, activate the theme by clicking Activate.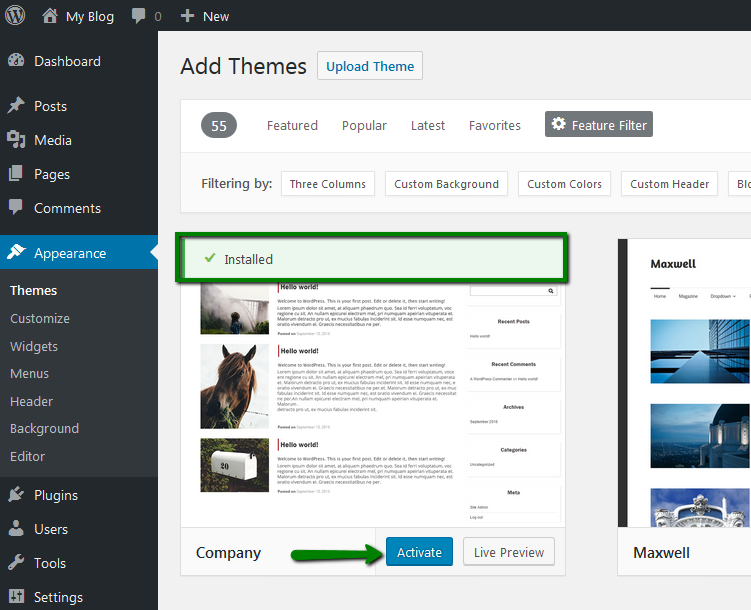 7. Then customize it to suit your needs.
5. Install plugins
Install must-have plugins such as Yoast for SEO. Simply put, a plug-in is a software that enhances the functionality of an existing software program.
Take the following steps to install plugins in WordPress:
How to Install a plugin Automatically

1. Log in to WordPress Admin Dashboard and go to the Plugins menu on the left >> Add new.
2. Type the name of the plugin you want to install in the search bar.

3. A list of the plugins available will be displayed. Then click Install Now to install the plugin.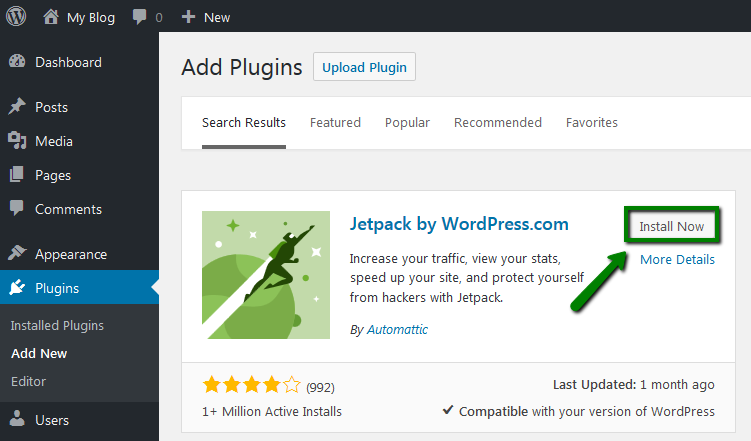 4. A notification that the plugin has been installed will be seen, click Activate to continue.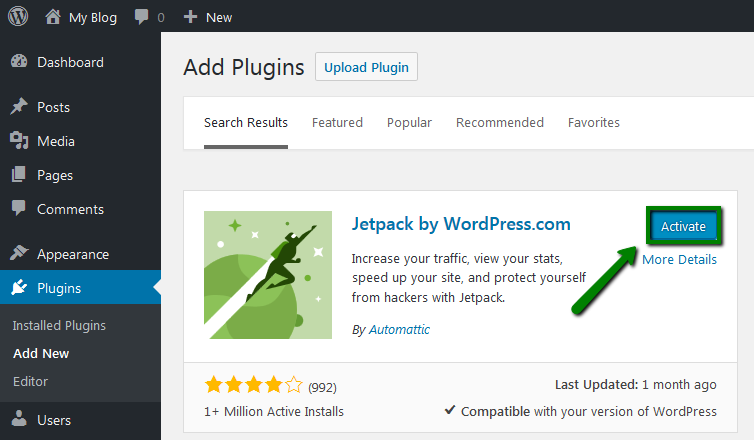 6. Write Your First Post
Blogging can be a great way to share your thoughts with the world, connect with other bloggers, and grow your audience. 
Most importantly to make money online.
But, if you've never written a blog post before, it can be a little daunting.
Here are a few tips for writing your first blog post:
To write a blog post:
Log in to your WordPress Admin Dashboard.
In the admin dashboard, click the 'Posts' tab.
Click the 'Add New' sub-tab.
Write: your post title in the upper field, and enter your post body content in the main post editing box below it.
Select a category, and make other selections from the sections as you wish.
When you are ready, click Publish.
7. Promote Your Blog
Promoting your blog is the first step to being successful. With the tips below, you can promote your blog and find new readers.
1. Research your audience. Figure out who your target audience is and what they want to read about.
2. Create high-quality content. This is the most important part of promoting your blog. If your content is good, people will want to read it.
3. Use social media to share your content. Share your blog posts on Facebook, Twitter, Instagram, and other social media platforms.
4. Use SEO to improve your blog's visibility. Use keywords and other SEO techniques to make your blog easier to find online.
5. Use paid advertising. Use platforms like Google AdWords or Facebook Ads to promote your blog to a wider audience.
6. Get involved in the blogging community. Join blogging communities and forums, and connect with other bloggers.
7. Attend blogging events. Attend blogging events and meet other bloggers in person.
8. Use guest bloggers. Invite guest bloggers to write for your blog.
9. Create eBooks and other content. Create eBooks, whitepapers, and other content to promote your blog.
8. Monetize Your Blog
Blogging can be a great way to make money. 
Here are five effective ways to monetize your blog:
1. Use Google Adsense
Google Adsense is a program that pays you money for displaying ads on your blog.
You simply add a few lines of code to your blog, and Google will provide ad space on your blog and pay you based on the traffic you generate
2. Sell advertising space.
One of the most common ways to monetize a blog is to sell advertising space. 
Advertisers will pay you to place their ads on your blog, and in return, you'll earn a commission on any sales that result from those ads.
3. Offer paid subscriptions.
Another way to make money from your blog is to offer paid subscriptions. 
This involves setting up a membership area on your blog where readers can pay to access exclusive content or services.
4. Sell digital products.
If you have a lot of expertise or knowledge in a particular area, you can sell digital products related to that topic. This could include things like e-books, online courses, or digital templates.
5. Promote affiliate products.
Affiliate marketing is a great way to make money from your blog. Joining affiliate marketing in Kenya will help you make a lot of money from your blog.
Basically, you promote other people's products and services in exchange for a commission on any sales that result.
Globally, there are over 600 million blogs. The number of blogs increases virtually every day.
Do you know that you should also start a blog in Kenya?
I'll talk about 7 reasons why you should start a blog in Kenya.
Why You Should Start a Blog In Kenya
1.

Start a Blog To Make Money Online In Kenya
Most people have turned their hobbies into online businesses. Blogging is their side hustle or full-time job.
They make a living out of a blog. You can start a blog in Kenya and earn a living from it. Blogging is a lucrative business.
Therefore, create a blog and start selling something that you are good at and monetize your blog.
2. Create a Blog To save Lives Of Kenyans
Most citizens in developing countries don't have access to quality healthcare services. Because it is not available or it is expensive. So they can't afford it.
So tens of thousands of lives have been lost due to lack of medical services.
However, some people have been able to access information related to health online from bloggers who are trained as health practitioners.
Sometimes, these bloggers write prescriptions for certain medications. 
Thus it cuts down on the costs of constitutions. They spend their little money on purchasing drugs.
Skipping consultations helps them to afford and access health care services.
So if you are trained medical personnel, create a blog and help people who can't access quality health services in Kenya.
3. Start a Blog To convert the people Of Kenya
There are so many blogs that write about religion. These blogs have changed people's lives and character in Kenya. People who were not believers have come to know God.
The messages shared on the blogs have brought salvation to people. Hence, start a blog in Kenya to help people learn about Christ Jesus.
4. Start Blogging To Entertain People
The internet resonates with entertainment. Today, there are so many blogs that are offering entertainment. This entertainment ranges from audio to video. 
Some blogs just upload video songs to entertain the masses. While others upload audio songs. Upload your thrilling songs on a blog just to entertain others.
I hope you know the scientific benefits of laughing! They are huge.
5. Start Your Blog To Become Famous In Kenya
Blogging is a great way you can expose yourself. Blogging will help you interact with different people from all walks of life. You will not only be read by people within your country but also from other countries.
So this interaction will expose you to the rest of the world. A lot of people from other countries will get to know you. Do you want to become famous? Create a blog if you want to become famous.
6.

Start Blogging To Enlighten People The People of Kenya
Information about businesses was difficult to come by two decades ago. But this is not the case today. Information about businesses can be accessed easily today.
There are a host of blogs on personal finance, small businesses, saving, and investing.
Simply search for the information you are looking for concerning businesses and you will access it right away.
The level of poverty in most countries is high. People need to be enlightened to get from the shackles of poverty.
So if you have an experience, share it with others on your blog.
7.

To Educate Others
Education is the best investment one can make in life. It is the greatest equalizer. So it is extremely expensive to acquire.
But most of the educational information can be accessed freely on blogs.
Students taking literature in English, for example, access expensive literature books without being charged a cent. Students can access free educational information from blogs.
Executive Summary
There are all sorts of reasons to start a blog. Maybe you want to share your thoughts on a particular topic, or you want to document your journey as an entrepreneur. 
Maybe you just want to have a space to write down your ideas and thoughts.
No matter what your reason is, starting a blog is a great way to build an audience and share your ideas with the world.
Read also:
Small business ideas to start in Zambia
How to make money online in Zambia
How to do affiliate marketing in Zambia